GALLERY 9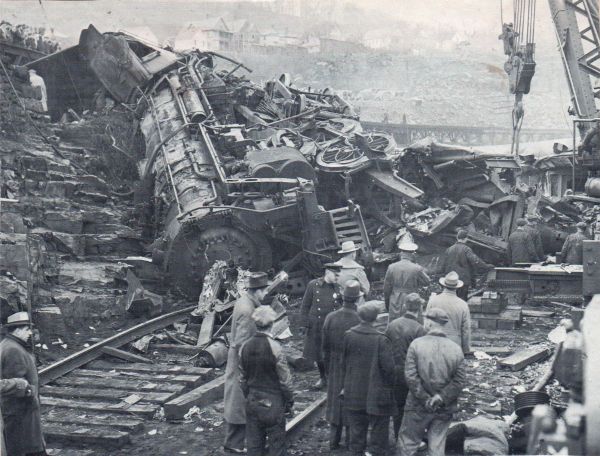 R&B RECORDS - SERVING THE RECORD WORLD SINCE 1966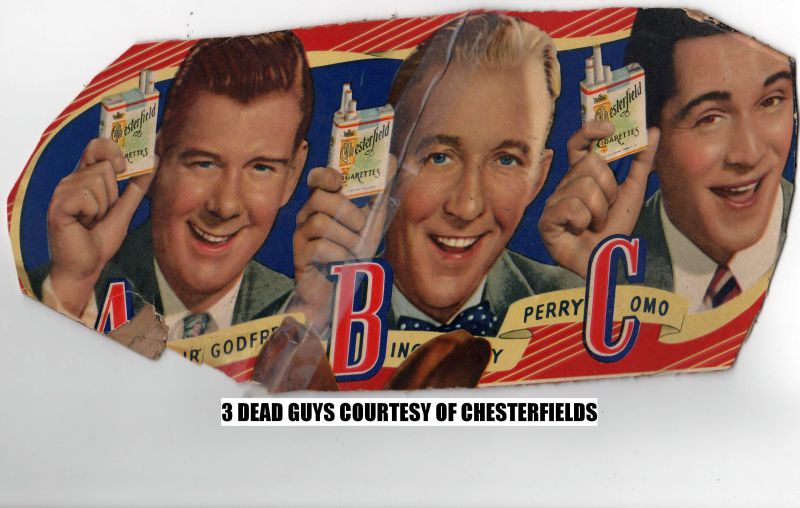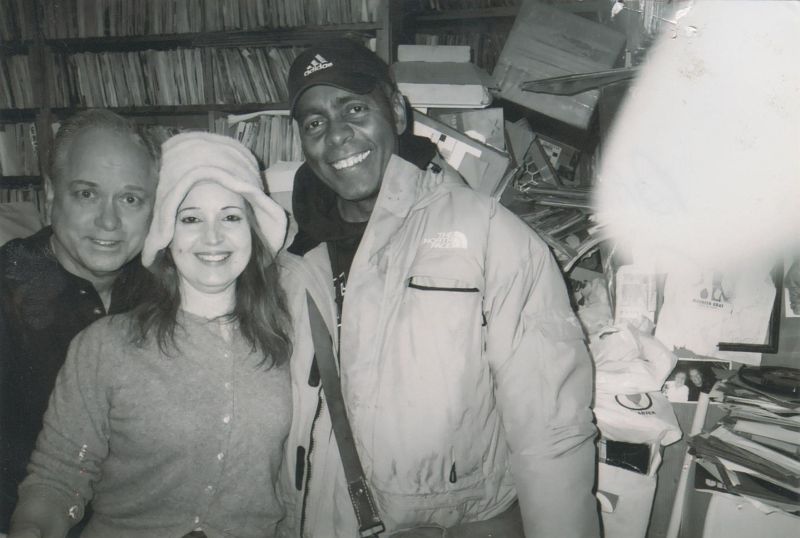 FAMOUS DJ. . .BARBARA ALLEN (IF YOU DON'T BELIEVE IT, ASK HER) & SMITTY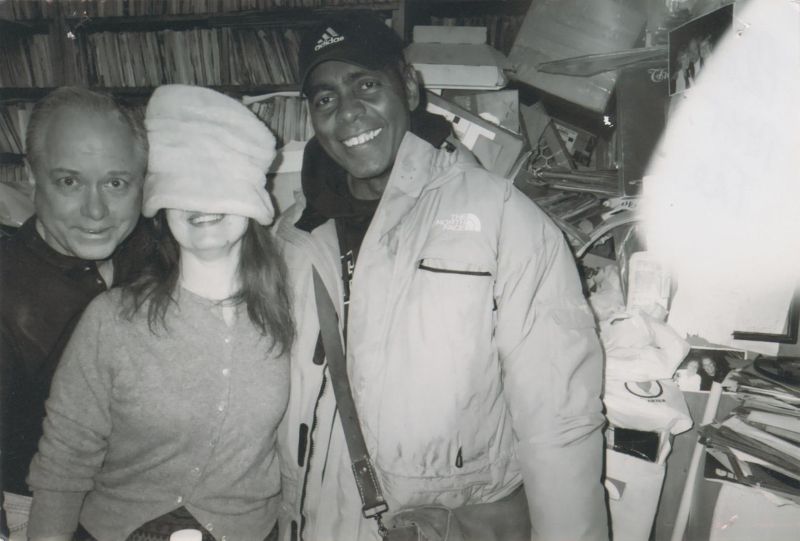 PROOF THAT THE HAND IS QUICKER THAN THE CAMERA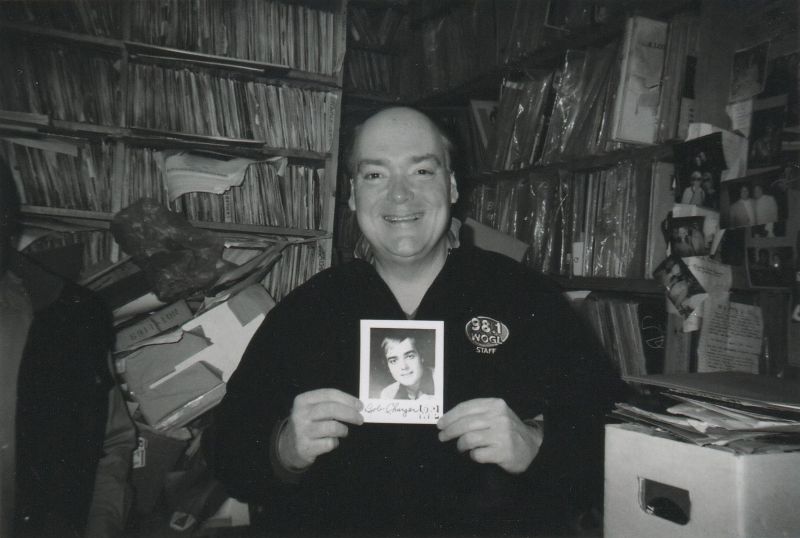 BOB CHARGER: THE "DON KNOTTS" OF BROADCASTING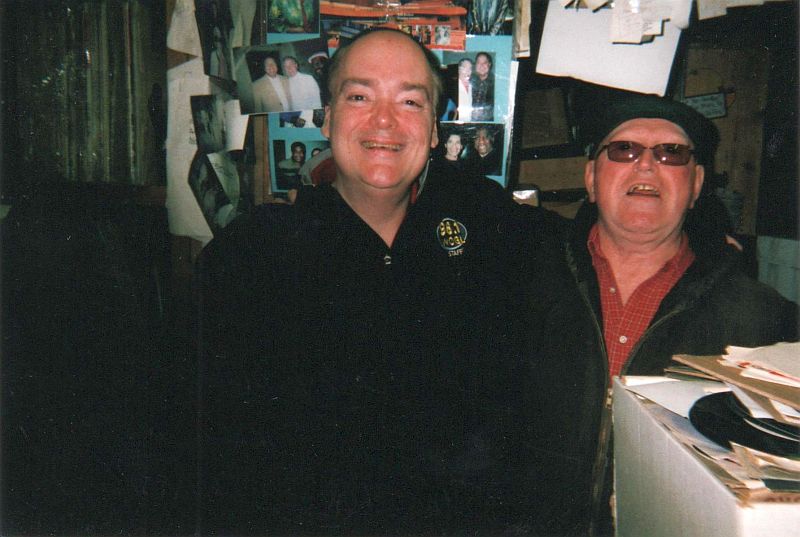 BOB CHARGER & "BROKEN RECORD" CHUCKIE. . .
THEY HAVE A LOT IN COMMON: SAME IQ (MINUS 6)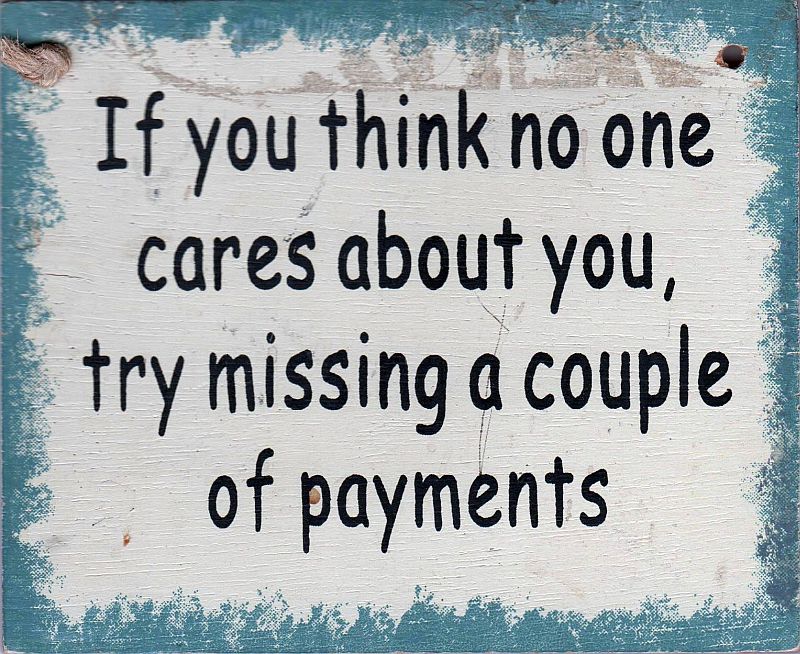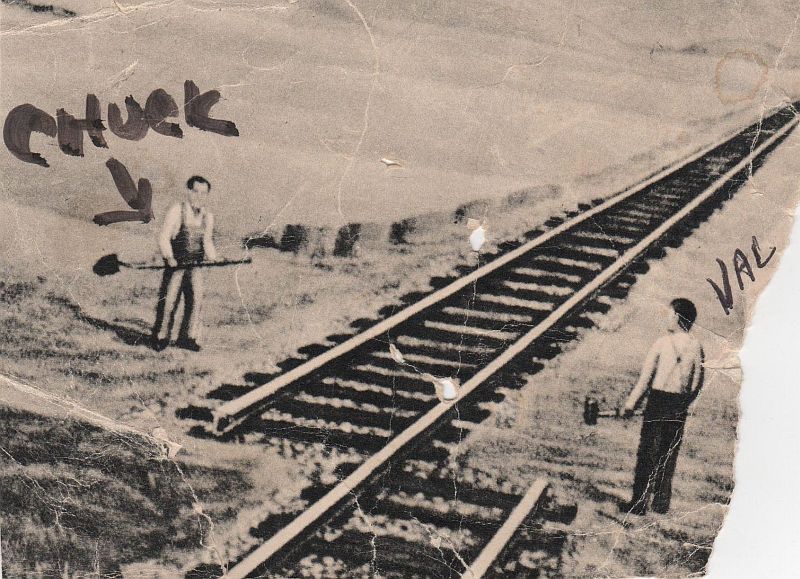 ANOTHER DAY AT R&B RECORDS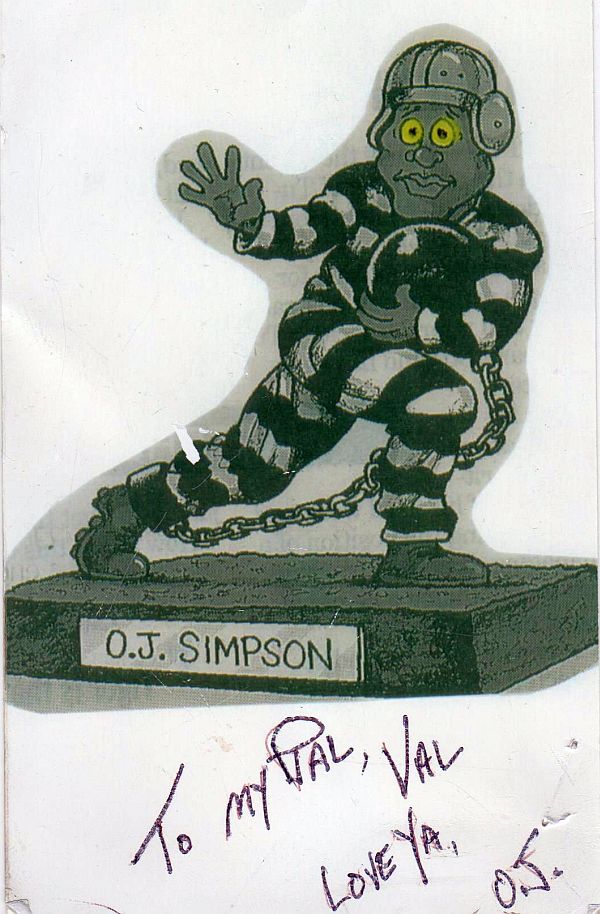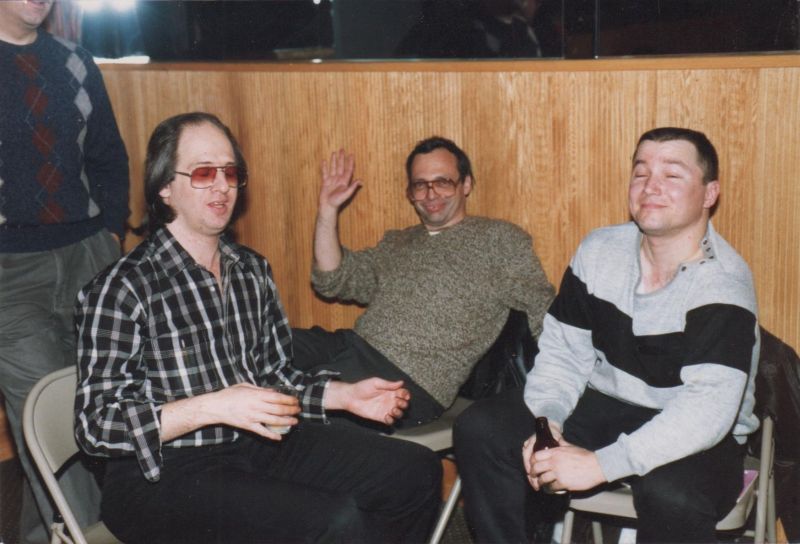 HERE'S 3 REASONS TO SELL YOUR RECORDS AND COLLECT STAMPS OR UNEMPLOYMENT!
BOB DISKIN, LOUIE SILVANI & GREG SUREK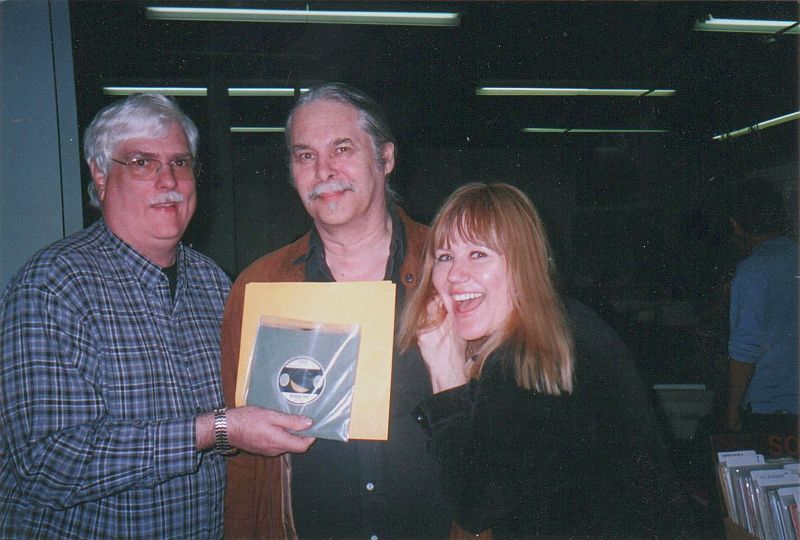 JOHN TEFTELLER - JUST PURCHASED AN EARLY BACHELORS ON LONDON UNPLAYED!
LOOKING ON IS CHICAGO'S ANSWER TO BLIND LEMON JEFFERSON. . .GEORGE PAULUS
AND MIRIAM FROM NORTON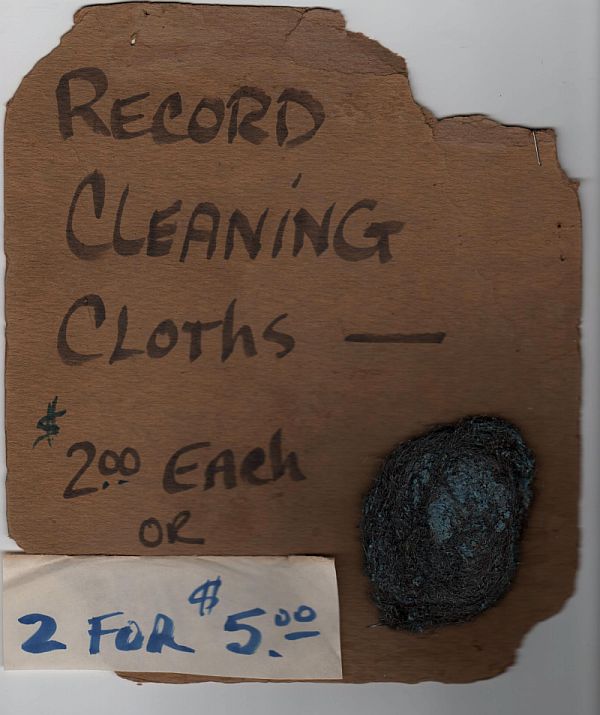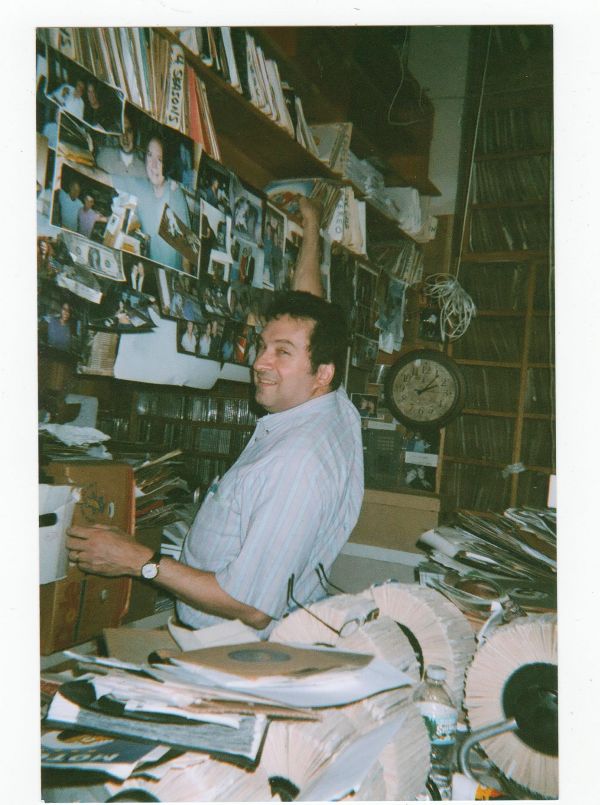 CHUCK - NOW YOU KNOW WHY HE WORKS HERE. . .HE'S TALLER THAN ME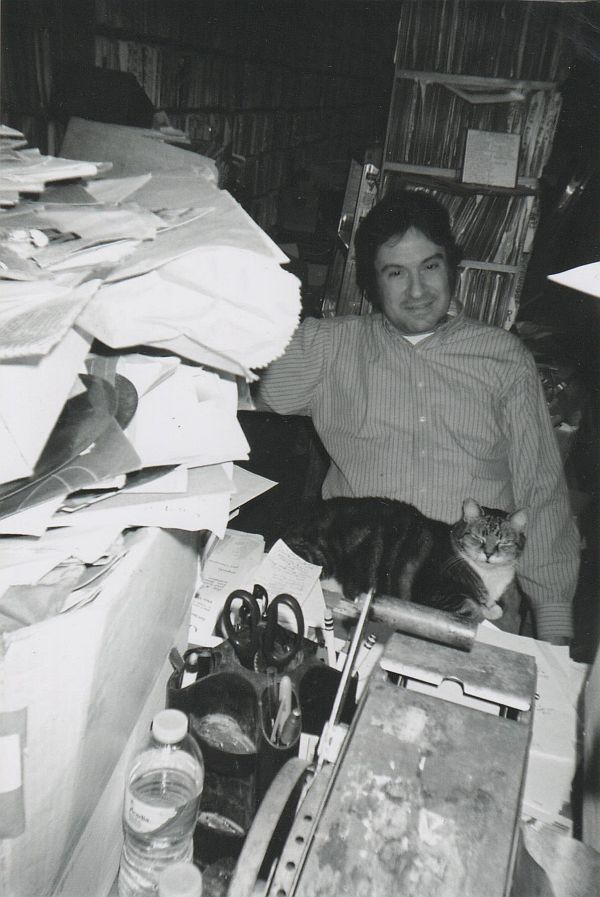 CHUCK. . .OVERWORKED AS USUAL!!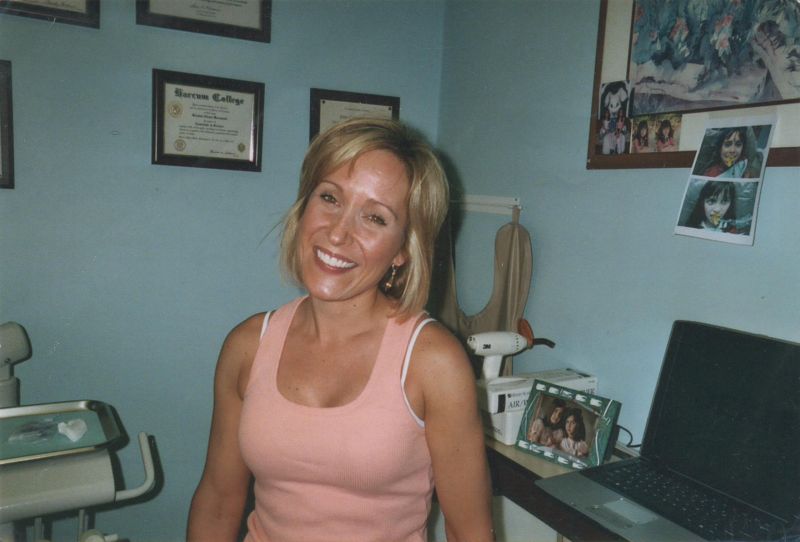 KRISTEN - MY DENTIST'S BEST ASSET...(IT CERTAINLY ISN'T HIS PRICES!)
SHE DOES MY TEETH. . .I TRY TO HAVE AS MANY CAVITIES AS POSSIBLE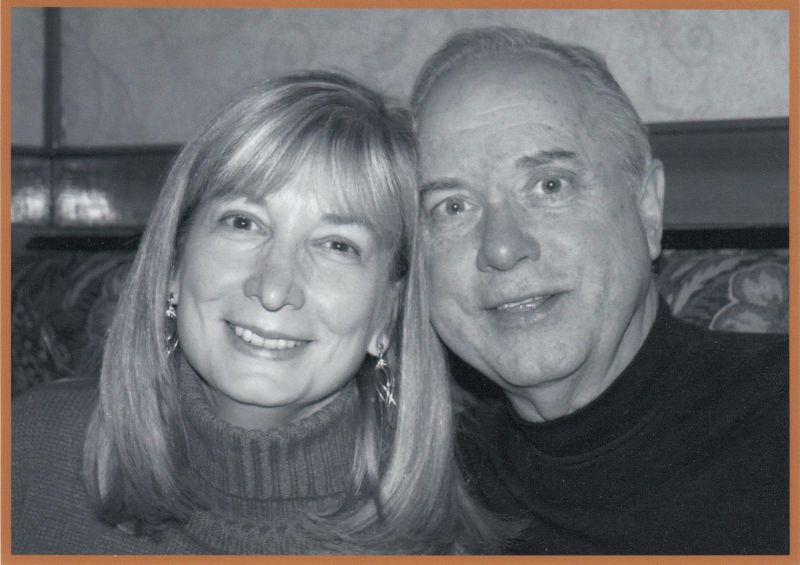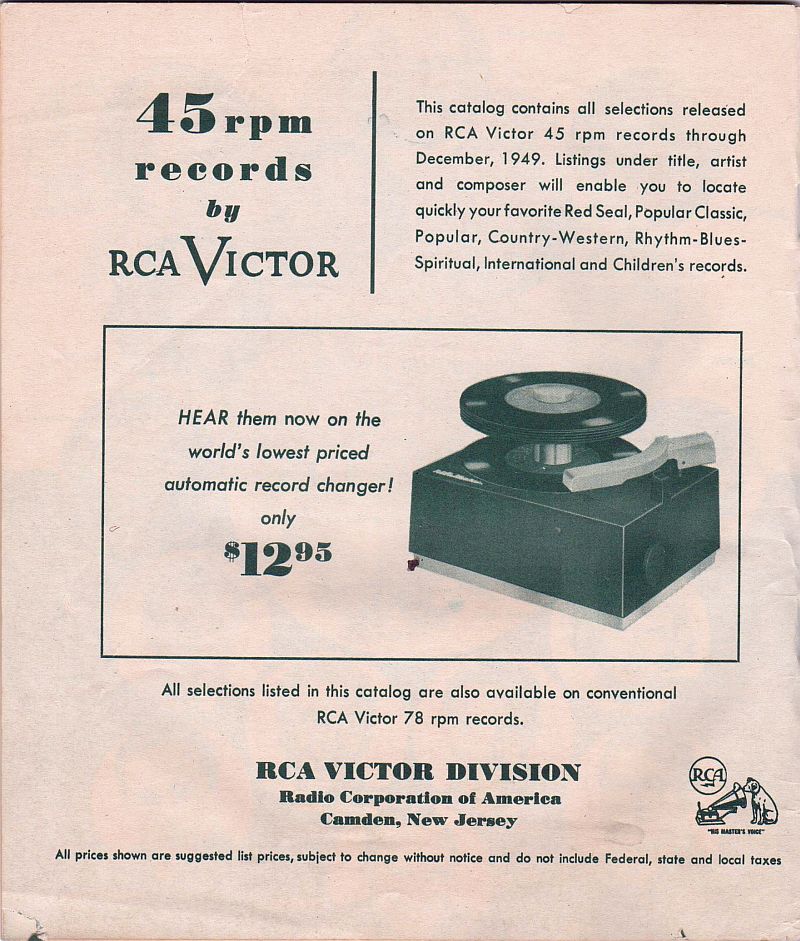 WOULD YOU BUY A RECORD FROM THIS GUY?. . .YOU DO!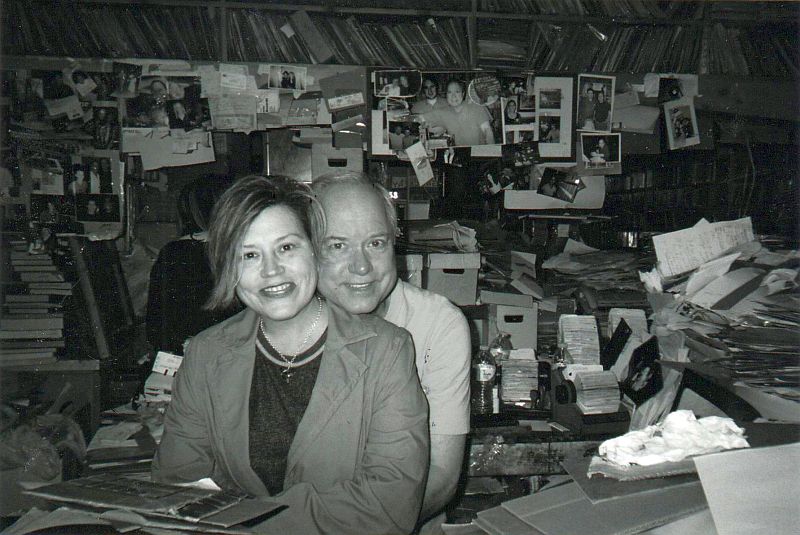 MARLA. . .SHE USED TO WORK HERE WHEN SHE WAS A TEENAGER. . .
SURPRISE VISIT AFTER 25 YEARS!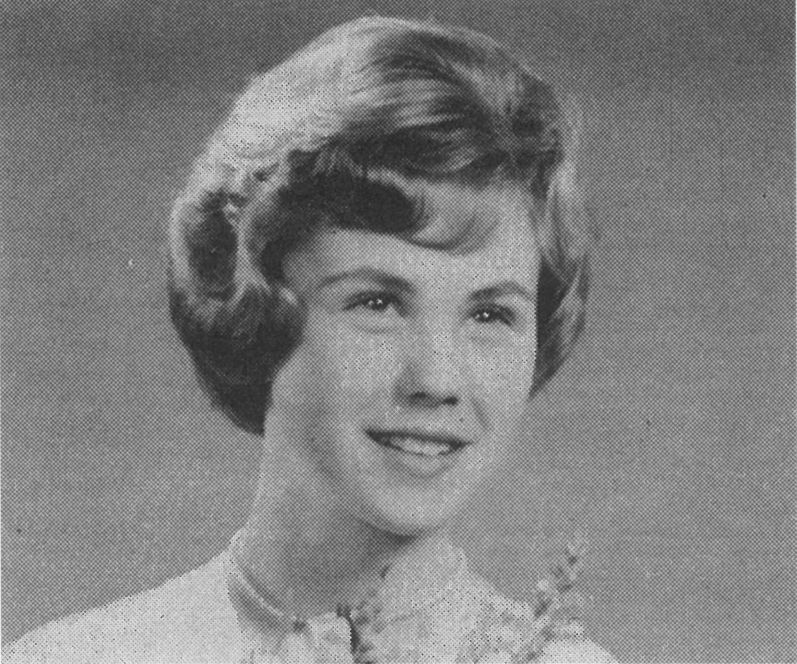 GUESS WHO?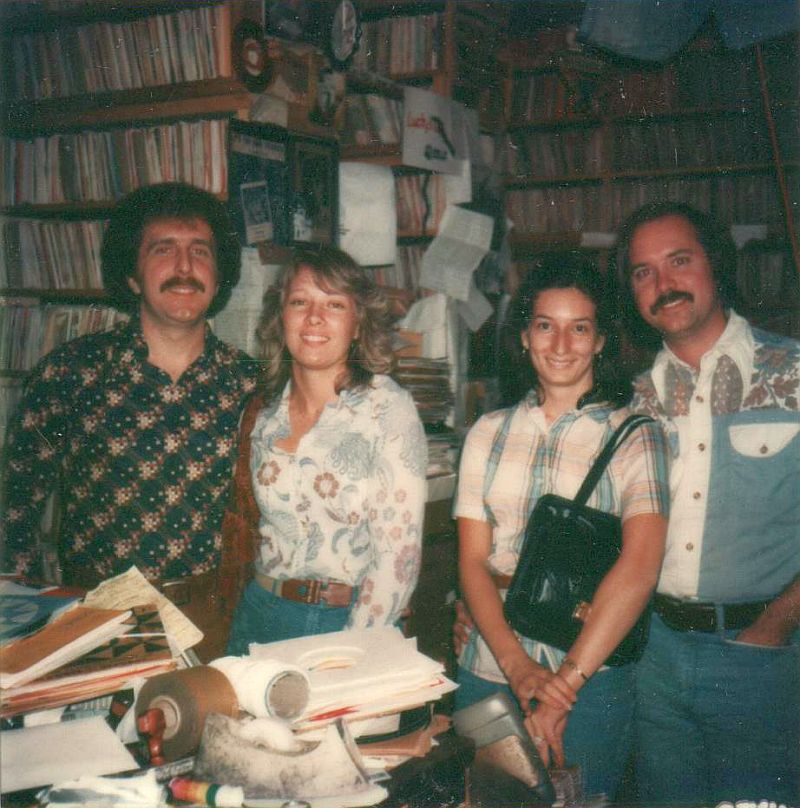 DENNY & SHARON THOMSON/PATTY & I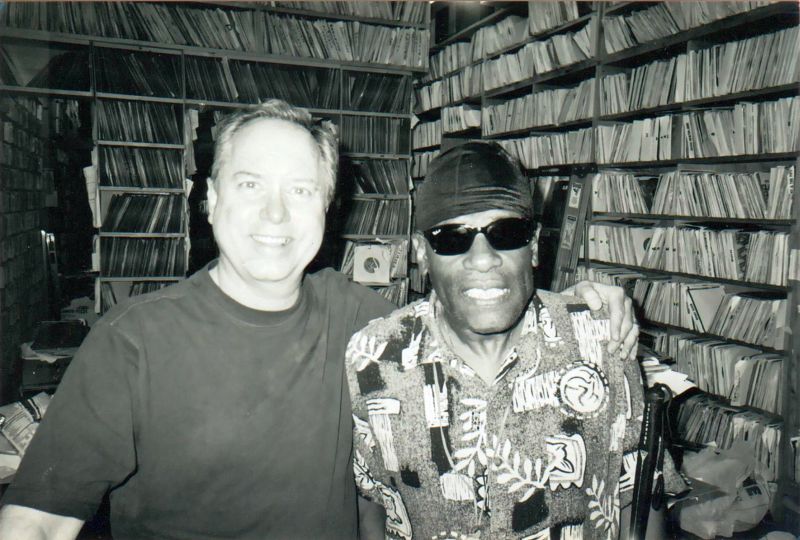 LEE GARRETT SUBS AS STEVIE WONDER WHEN HE NEEDS SOME EXTRA CASH. . .
USED TO BE RAY CHARLES BUT THAT CAREER IS OVER!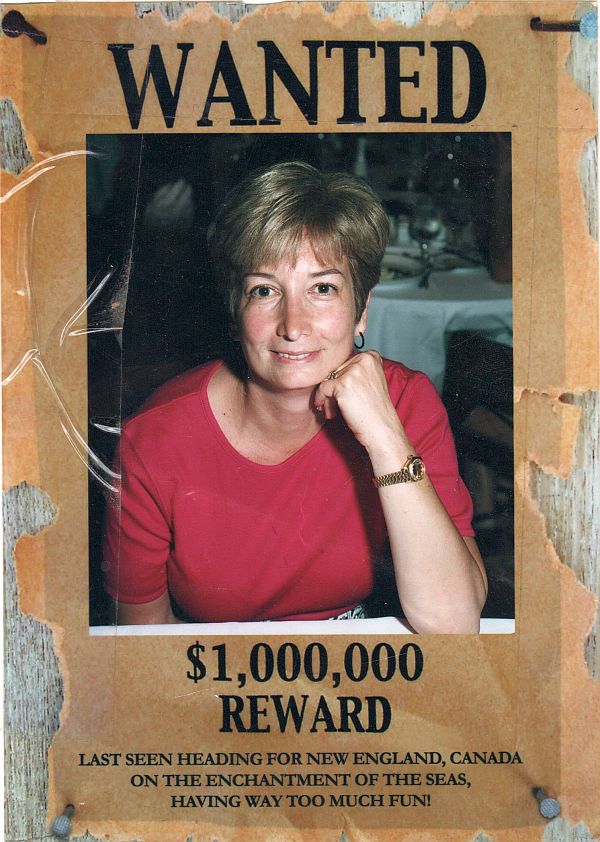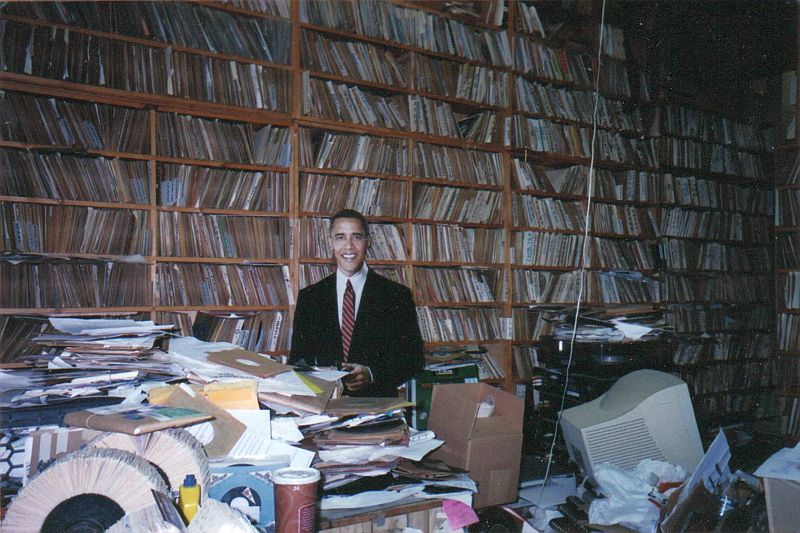 "I'M BACK!". . .BEATS BEING IN WASHINGTON!
EDDIE RICH - SWALLOWS LEAD SINGER. HE'S UP THERE
. . .BUT SOUNDS BETTER THAN EVER
AND HAS THE ENERGY OF A 20-YEAR-OLD!!
HENRY DELUCA - CHARLIE INGUI - FRANK CZURI
"OBIE" O'BRIEN - RECORD PRODUCER WHO WORKS WITH BON JOVI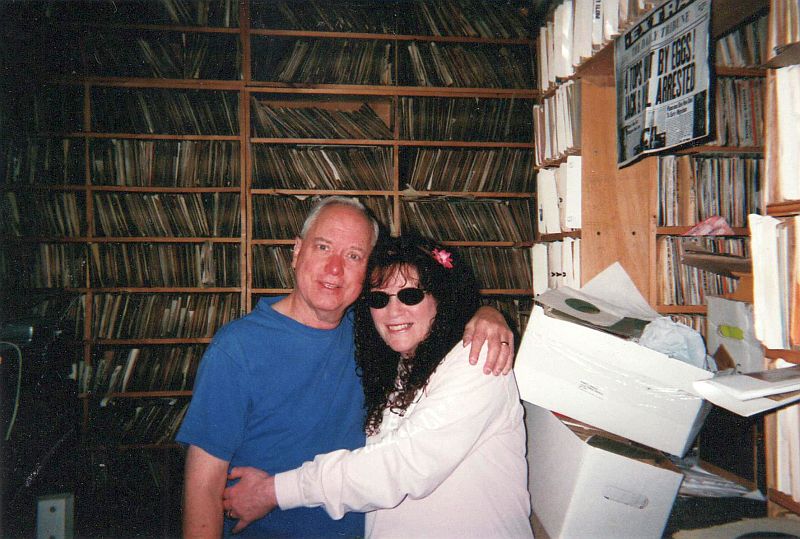 BANDSTAND BONNIE!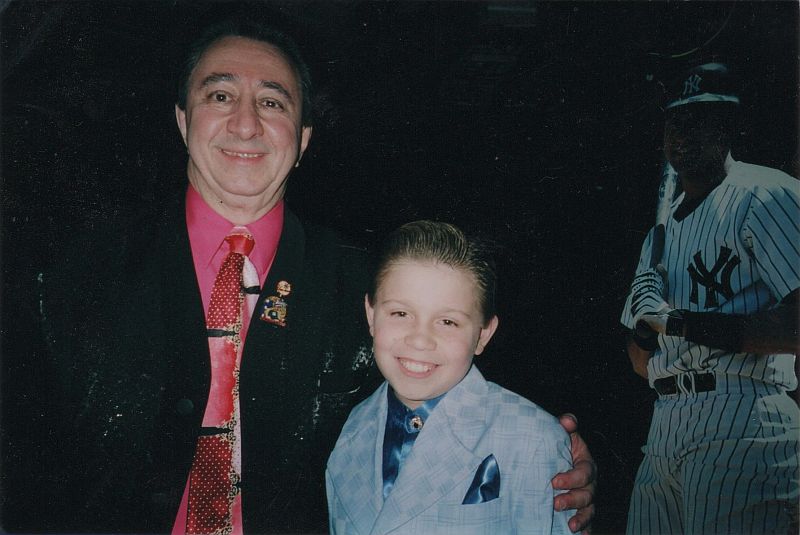 RONNIE I & KID KYLE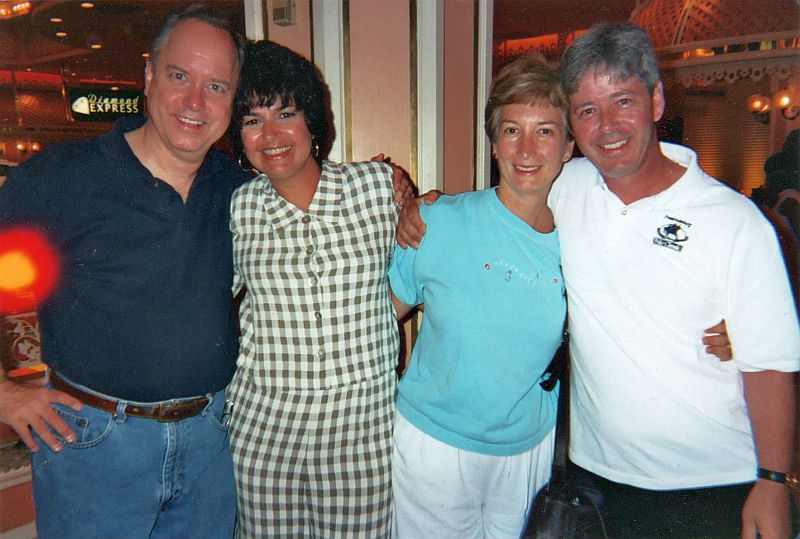 BOB & CINDY DelBUONO. STILL DIGGING IN NATIONAL PARKS
FOR CANNONBALLS & CIVIL WAR BUTTONS!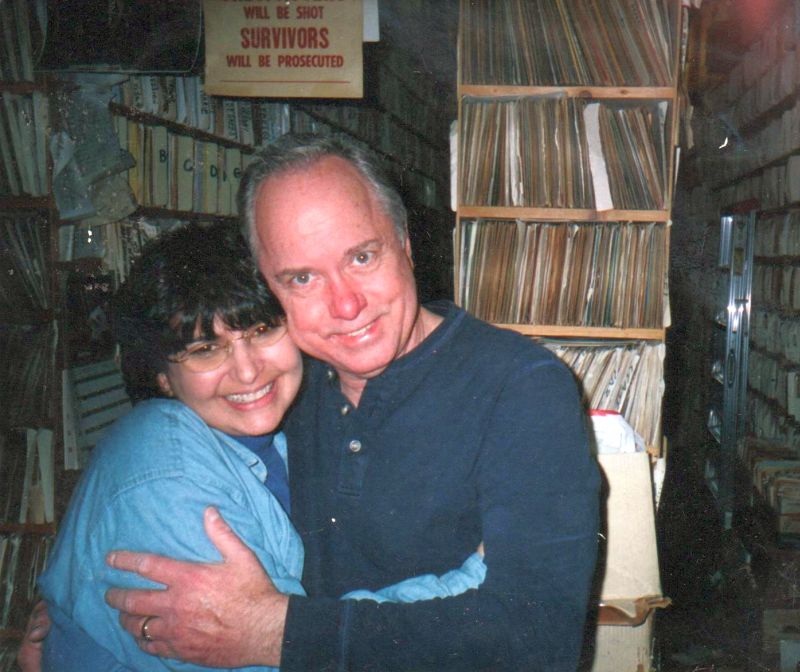 CINDY DelBUONO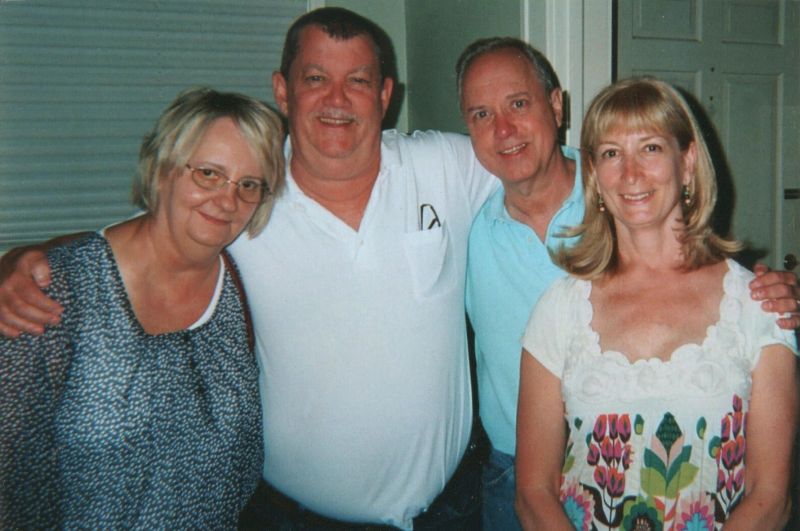 MY BROTHER GEORGE & HIS WIFE JACKIE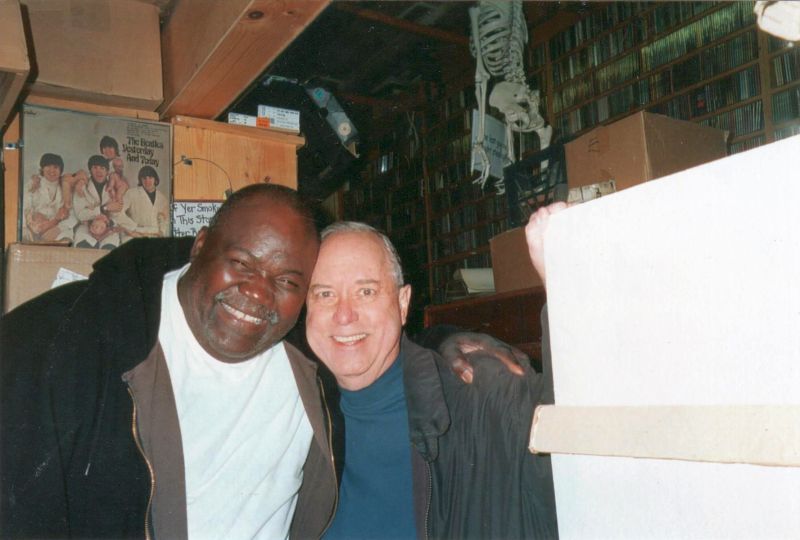 LEON - MY MUSCLE - WHENEVER I HAVE A PROBLEM I CALL LEON AND IT GOES AWAY. . .
COME TO THINK OF IT. . .HE WENT AWAY - I HAVEN'T SEEN HIM IN 5 YEARS. HMMM. . .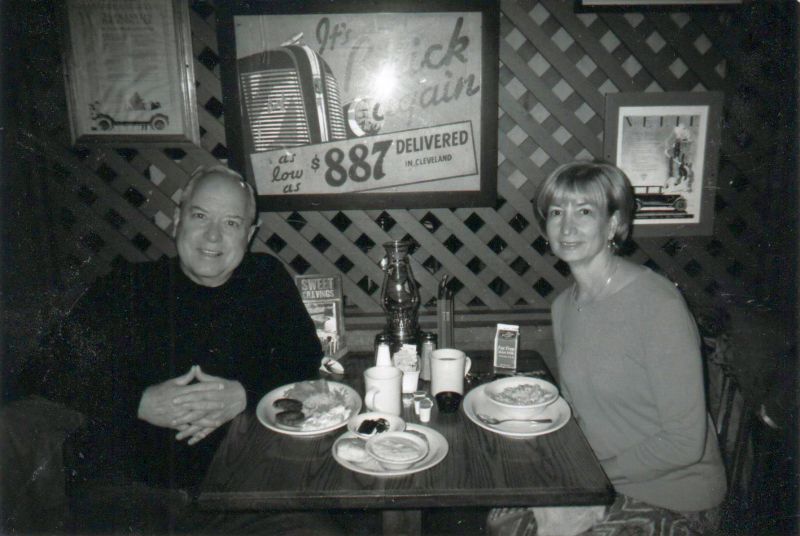 BREAKFAST AT CRACKER BARREL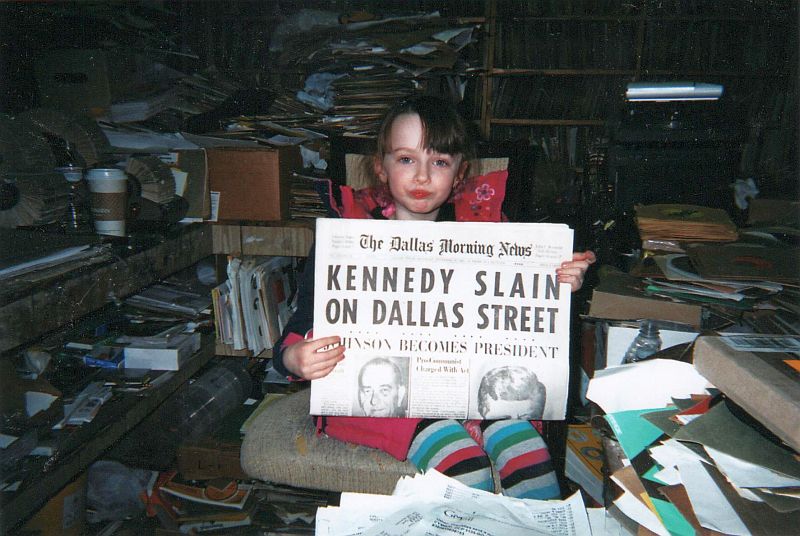 NOV 23, 1963 FLASHBACK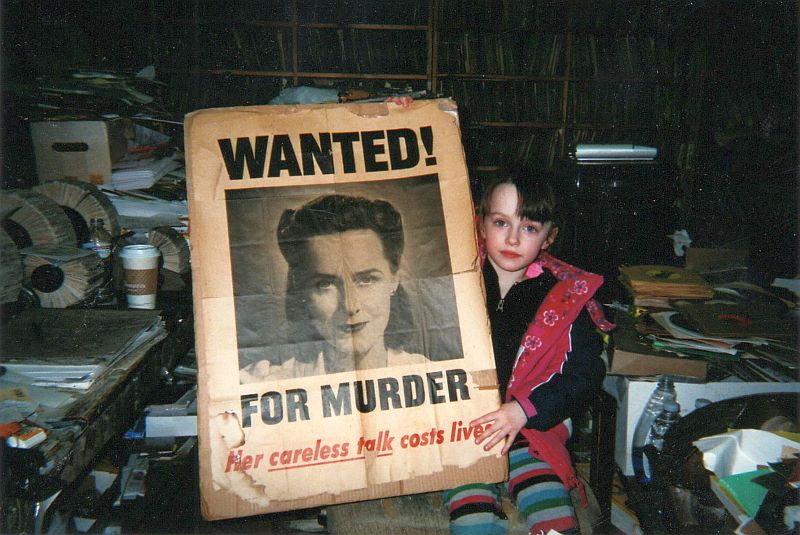 WW2 FLASHBACK (TOKYO ROSE)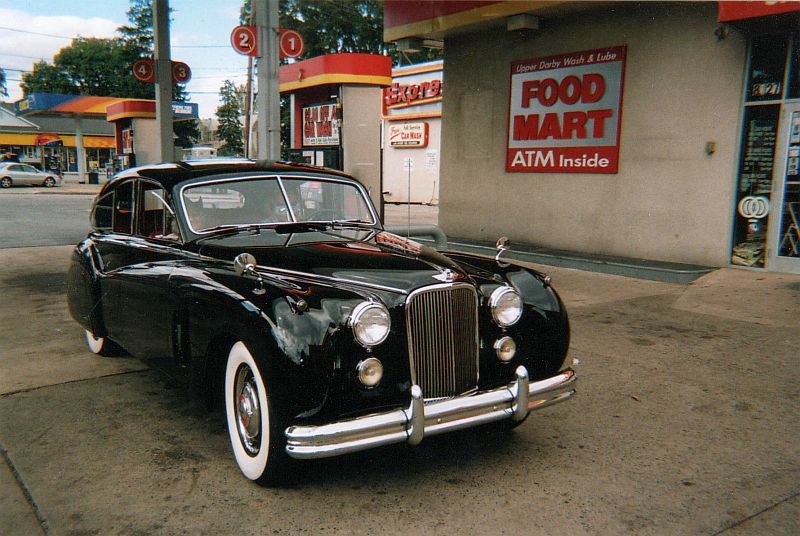 ALMOST TRADED RECORDS FOR THIS CAR - BUT THE GUY WANTED THE TIRES BACK!
CARL TANCREDI - SPENT 90% OF HIS LIFE IN SCHOOL
- FINALLY GRADUATED HIGH SCHOOL IN 2005.
NEEDS WORK. . .A LOT OF WORK!
JOHN WISDO, STEVE CALDWELL & STEVE KURTZ
LOU COSTELLO & KENNY VANCE
JIM BAKAY
CHARLIE LAROCCO & BUZZY GARLAND
THE "INFAMOUS" CHARLIE LAROCCO (SEE ARTICLE BELOW)




JANICE & RANDY






ANDY KORBUL & JOHN ANDERSON



THANKS FOR COMING TO MY PARTY!
NORMAN COOPER WITH HIS LADY "SANDY"
TONY, COURTNEY, ANDREW & KATIE
FRANK CHILLE
BRIDGET & CHRISTIAN. . .OLD NEIGHBORS THAT PATTY HELPED RAISE
CHI-CHI
DEBBIE & CHARLIE
JACK & PEGGY STRONG







KENNY GAMBLE, JOE TARSIA & JERRY BLAVAT









JOHNNY MADARA TODAY
DAVE WHITE TODAY
JOHNNY MADARA
DAVE WHITE
WITH BUNNY SIGLER



WITH HIS WIFE SANDRA
KAL "Big Beat" RUDMAN
LEON HUFF
CHARLIE & RICHIE INGUI (Soul Survivors)
ARLENE SULLIVAN (Bandstand regular)



r> Earl Young: Trammps, MFSB drummer but mainly the bass singer
on the Cordells on Bargain & Whirlwinds on Philips
Michael Tearson, Steve Ross, Gary Hendler and Mike Nise
----------------------------------------------------- Dave Appell's 92nd Birthday Party Happy birthday Dave! You're the last surviving member
of the Cameo-Parkway braintrust
Left to right: Jerry Ross, Billy Jackson, Charlie Gracie, Joe Tarsia
Bobby Rydell, Jerry Blavat & Kal Mann's widow
Bobby Rydell
WITH STEVE ROSS
GENE KANE & BOBBY



WITH JERRY GROSS OF THE DOVELLS
JOE RENZETTI



-----------------------------------------------------

WILLIE WINFIELD IN ATLANTIC CITY
Raul Cita (never far from Willie)
TOMMIE, WILLIE & I

LARRY CHANCE
GENE PITT
WITH RON O'BRIEN
JIMMY GALLAGHER, PASSIONS LEAD SINGER
WITH PATTY
King Arthur
Julie Barrett. . .Richard's widow
Back again. . .Angelica with a new look
25' from stardom







---------------------------------------------------------------------------

UPSTAIRS 2007
DOWNSTAIRS
UPSTAIRS
A YOUNG MAUREEN GRAY
MAUREEN. . .YOU'RE IN A BETTER PLACE NOW, SINGING WITH THE ANGELS
BUYING A LOAD OF LPs IN SOUTH PHILLY. THOSE DAYS ARE OVER!!
PATTY'S FATHER'S CAR WAS ALSO LOADED (A FAMILY AFFAIR!)
AL TROMMERS ON THE "ATKINS" DIET. . .
ANDY & ISABELLA

JOY



TERRY, WAYNE & SANDY
CHIEF HALFTOWN - SPEARHEADED THE NAME CHANGE OF THE WASHINGTON REDSKINS
HIS PROPOSAL. . .WASHINGTON SAVAGES!!!
HEATHER - NOW AT LOWE'S. THEIR STOCK WENT UP 200%!
THE CLIFTONAIRES!
ROB & HIS KIDS AND/OR DAY CARE KIDS
ROANN & ROBINSON AND KIDS FROM MY CHURCH






CHUCK WITH THE ANDERSON TWINS
MAIN FLOOR
KEN FRASER OF THE 4 IMPERIALS. . . "LAZY BONNIE"
BOBBY ELI & LITTLE JIMMY SCOTT



GIBBS & I
JERRY GREENE
WITH DAUGHTER MELISSA & STEVE KAPLAN
CLEANING CIGARETTE SMOKE OFF A JUKE BOX RECORD
HARVEY FUQUA & JOHNNY CARTER
CONGRESSMAN BOB BRADY - CHAIRMAN OF DEMOCRATIC PARTY IN PHILADELPHIA
HE WAS SUPPOSED TO BE VOTING IN CITY HALL. . .LOVES OLDIES



SHARON TENDLER & ROYCE HOWARD
ALMOST EVERY FRIDAY NITE FOR 35 YEARS AND RUNNING!
PATTY & MICHAEL NUTTER (MAYOR OF PHILLY)
MAYOR NUTTER, BOB BRADY & 2 CONSERVATIVES. . .ACTUALLY JUST ONE. . .ME
SCHOOLMATES: WILLIE ADLER & BILLY NEWMILLER
(WHO WAS IN FARRELL & THE FLAMES ON FRANSIL)
FRED PRINZ
"THE ARCTIC BLAST" 50 YEAR ANNIVERSARY OF PHILADELPHIA'S ARCTIC RECORDS. . .
THE LABEL THAT IS CREDITED FOR CREATING "PHILLY" SOUL


PATTY & ALI - GOOD MATCH. . .LET HIM PAY HER BILLS!

ALI HACKETT & FRANK LIPSIUS
STEVEN KELLY - MEMBER OF THE VOLCANOS "STORM WARNING" & author
of "Behind the Curtains"
John Ellison - lead singer of Soul Brother 6 on Atlantic (Some Kind of Wonderful)
. . .he sounds better than ever!
Michael Spinks . . .still has both ears after fighting Tyson!
Tom Lamaine & his wife Donna - about to get a broadcasting award



Kenny Today - Does Otis Redding better than Otis & I LOVED Otis!!
Book him. . .he's fabulous!!
JAMES MARSHALL, MICHAEL SPINKS AND A KNOCKOUT PUNCH FROM KENNY HAMBER
WITH JAMES MARSHALL OF THE INFORMERS
REGGIE MARSHALL, BASS OF ROYAL 5
REGGIE MARSHALL & FAMILY,



CHARLIE STINCHCOMB & BUCKY MURPHY OF ANNAPOLIS, MD.
----------------------------------------------------------------------------- FAMILY & FRIENDS PATTY'S NEPHEW "LJ" WITH HIS WIFE, LISA & SON GAVIN
TOM & JEANNE RICHTER WITH "GRANNY" HOLDING THE TABLE UP
RICHARD &: MARYANNE GARCIA. . .SHE CALLED 30 YEARS AGO FOR A RECORD
- BEEN FRIENDS EVER SINCE
STEVE & BARB. . .CELEBRATING HER BIRTHDAY!
-----------------------------------------------------------------------------

BARRY & HALEY



PATTY "GIRLS" PARTY. . .FEATURING JOY, CHRISTINE & HANNAH
NINO & CAROL TINARI. . .GOT A PROBLEM - SEE NINO!
CAROL TINARI
PATTY WITH THE "TOWNHOUSE" WAIT STAFF
MY ADOPTIVE FAMILY - TONY, COURTNEY & KIDS
CHRISTINE WITH DAUGHTER COLLETTE. SHE WENT TO MY CHURCH & WORKED FOR ME
. . .LIVES IN OREGON NOW



DADDY'S LITTLE GIRL






JULIA WILKINSON. . .DELCO TIMES



JOHN BROVEN & DICKIE TAPP. PART OF THE FIRST ENGLISH INVASION
(BEFORE THE BEATLES)
ANTHONY WILSON - SOUL COLLECTOR/DEALER FROM LONDON
PUTIN'S NIECES VISITING PHILLY. JUST CAME FROM THE SMITHSONIAN
WE GOT MORE THAN THEY DO
NEW YORK, RUSSIAN & U.K. SOUL COLLECTORS ABOUT TO LEAVE
GUY ON THE LEFT IS DOING A MICHAEL JACKSON (CROTCH GRAB)
CAPTAIN KIDD!
JOE CLEARY. . .SUPERB LEAD SINGER OF THE BALLADEERS

Mayer Hawthorne & Jimmy Depre
PATTY & CHRISTIAN
PATTY & CARMEN WITH 2 TURKEYS NAMED TOM!
"BIRD" SUTTON & FAMILY. NORTH CAROLINA LEGEND!
(THAT'S WHAT HE TOLD ME!)


LEE JOLLES, CHRISTINE VITALE & DONN FILETI
"60 SECONDS MAKE ONE MINUTE. . ."
WHAT'S LEFT OF THE 50's VOCAL GROUP COLLECTORS
THEY'RE DROPPING LIKE FLIES!!


SHARON & ROYCE
/a>





BUTTER. . . WITH NINA, JERRY & HIS WIFE CYNTHIA
BUTTER & HIS MOM



HARVEY FUQUA WORKING WITH THE TEMPTATIONS
LIFESAVER. . .HE FIXED MY BACK. . .THE THIRD EPIDURAL WORKED LIKE A CHARM
Ahmir (Quest Love) comes home to Philly - he's on Jimmy Fallon (The Tonight Show)
every night with his group "The Roots" (he may have more records than we do)
WITH CHUCK
AND CHARLES
SURPRISE VISIT: JOY COMES EAST. . .AGAIN!











CHRISTINE
WITH CHRISTINE'S DAUGHTER COLLETTE



Gallery 1

Gallery 2

Gallery 3

Gallery 4

Gallery 5

Gallery 6

Gallery 7

Gallery 8

Gallery 10

Gallery 11

BACK TO PHOTO GALLERY

RETURN TO HOME PAGE